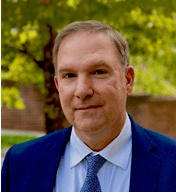 John C. Mester

President and CEO
Universities Research Association
Washington, DC
John C. Mester, President and Chief Executive Officer of Universities Research Association (URA), was appointed on September 1, 2021.
URA, a consortium of 90 leading research universities, was founded to build and operate unique research facilities in the national interest.
As President and Chief Executive Officer, in coordination with the URA Board of Trustees, Dr. Mester provides leadership in the strategic planning, governance, and administration of the organization, and corporate relations with Federal government, industry, and general public.
URA's primary responsibility for more than 50 years has been the management and operation, recently in partnership with the University of Chicago through the Fermi Research Alliance, LLC (FRA), of the Department on Energy's Fermi National Accelerator Laboratory.  Dr. Mester is a member of the FRA Board of Directors. Through a National Science Foundation (NSF) award, URA provides US support for the operation of the Pierre Auger (cosmic ray) Observatory in Argentina. As part of a Honeywell-led team under the awarded contract for the management and operation of Sandia National Laboratories (NSL) by the DOE National Nuclear Security Administration (NNSA), URA is assuming an important new role in supporting and enhancing SNL scientific and educational activities.
Prior to his appointment at URA, Dr. Mester served as Associate Vice President for Research and Professor in the College of Optical Sciences at the University of Arizona.  Prior to that, John was Vice President for Science and Programs at Associated Universities, Inc., which manages the $864 million cooperative agreement for the  management and operation of the National Radio Astronomy Observatory for the National Science Foundation.
Dr. Mester earned his doctoral and master's degrees in physics from Harvard University and his undergraduate degree in physics and mathematics, Phi Beta Kappa, from The Johns Hopkins University.