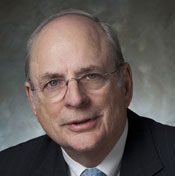 Norman R. Augustine

CEO (ret.)
Lockheed Martin Corporation
Norman Augustine has a long and distinguished career as a corporate leader, public servant, educator, and author. In addition to serving on the URA Board of Trustees, he currently serves as a member of the President's Council of Advisors on Science and Technology and the Department of Homeland Security's Advisory Council. He is the retired chairman of chief executive officer of the Lockheed Martin Corporation.
Among Augustine's many honors are the National Medal of Technology and the Department of Defense's highest civilian award, the Distinguished Service Medal, given to him five times. Most recently, he was awarded the 2005 AAAS Philip Hauge Abelson Prize and the 2006 Public Welfare Medal from the National Academy of Science. He is co-author of The Defense Revolution and Shakespeare In Charge and author of Augustine's Laws and Augustine's Travels. He holds 21 honorary degrees.
Mr. Augustine was Chairman and Principal Officer of the American Red Cross for nine years, Chairman of the National Academy of Engineering, President and Chairman of the Association of the United States Army, Chairman of the Aerospace Industries Association, and Chairman of the Defense Science Board. He is a current or former member of the Board of Directors of ConocoPhillips, Black & Decker, Procter & Gamble, of which he is Presiding Director, and Lockheed Martin and is a member of the Board of Trustees of Colonial Williamsburg, a Trustee Emeritus of Johns Hopkins and a former member of the Board of Trustees of Princeton and MIT.
Mr. Augustine attended Princeton University where he graduated with a BSE in Aeronautical Engineering, magna cum laude, and an MSE.