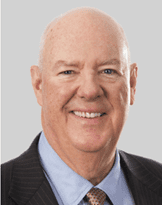 Richard J. Swift

President, Chairman and CEO (ret.)
Foster Wheeler Corporation Chairman (former)
Financial Accounting Standards Advisory Council
Mr. Swift was Chairman, Financial Accounting Standards Advisory Council from 2002 to 2006. The Advisory Council is the established advisory body for the Financial Accounting Standards Board (FASB), which sets Generally Accepted Accounting Principles (GAAP) for all US Public companies.
From 1972 to 2001, Mr. Swift had a variety of assignments at Foster Wheeler (now AMEC) leading to his position as Chairman, President, and CEO from 1994 until his retirement in 2001. Foster Wheeler is a large, international Engineering and Construction Company, which built refineries, process facilities, power generation units, oil and gas facilities, and industrial facilities. Mr. Swift served in a variety of engineering and management assignments during this period, with the exception of one year (1977-78) when he was employed by Union Carbide Corporation in their Corporate Development Group.
Current Experience
• Public Company Independent Director of the following companies
• Public Service Enterprise Group (PEG) since 1994 (various Committee assignments including Nuclear Oversight committee
• Ingersoll Rand Plc. (IR) since 1995. Lead Director since 2010 Kaman Corporation (KAMN) since 2002
• Hubbell Incorporated (HUBB) since 2003
• CVS/Health (CVS) since 2006
Professional Activities
• Past Chairman, National Foreign Trade Council
• Member, Business Roundtable 1995-2001 (Foreign Trade task force)
• Past Member, Board of Overseers of New Jersey Institute of Technology
• Former Trustee, Manufacturer's Alliance for Productivity and Innovation (MAPI)
• Past Director, New Jersey Chamber of Commerce
Education/Licenses
• B.S. U.S. Military Academy (West Point) 1966
• M.S. Purdue University 1972, Distinguished Engineering Graduate 1996
• MBA (Finance), Fairleigh Dickinson University 1976, "Pinnacle Society" (Distinguished Graduate) 1996
• Licensed Professional Engineer, New Jersey, 1976-2011
Awards
• Numerous United States and Vietnamese Military decorations
• "Semper Fi" award, presented by Marine Corps and Law Enforcement Foundation
• 2013 National "Top 100" Board Member by National Association of Corporate Directors (NACD)