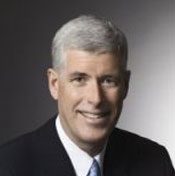 Robert C. Skaggs, Jr.

Chairman and CEO (ret.)
Columbia Pipeline Group
Robert C. (Bob) Skaggs, Jr., is a business leader, recently retired CEO and President of large, multistate utilities and interstate gas pipeline companies, with a strong track record of turning around, repositioning, and significantly growing them. His expertise in solving complex problems, creating successful financial, regulatory, and operational strategies, developing execution focused senior leadership teams, and driving impactful change has informed all his work.
Bob's extensive public board experience includes serving as Director of Cloud Peak Energy (NYSE: CLD), where he is currently serving as Chair of the Compensation Committee and as Member of the Audit and the Governance Committees. He chaired the Board of Columbia Pipeline Group (NYSE: CPGX) and Columbia Pipeline Partners (NYSE: CPPL) from 2015 to 2016, and was a Director of the NiSource Inc. from 2005 to 2015.
As CEO and President of NiSource Inc., Bob achieved sustained growth by fixing and transforming NiSource's relationships, systems, people, and strategy. In that capacity, and subsequently as CEO and President of Columbia Pipeline Group Inc. and CEO of Columbia Pipeline Partners, he oversaw leadership teams that delivered annual shareholder return of 30% through strategically growing the annual capital investment program from $500M to $2.5Bn from 2009 to 2016. Equity market value over this period grew from ~$2Bn to $20Bn+.
Effective at leading complex and transformational transactions, Bob led the July 2015 strategic spinoff of CPG from NiSource, including the formation and the January 2015 IPO of Columbia Pipeline Partners (CPPL)—the largest MLP IPO in history—and $5Bn of public financing in 2015. He also led the July 2016
sale of CPG to TransCanada for an enterprise value of ~ $13Bn.
Focused on developing people and capability, Bob built top performing teams based on individual empowerment and accountability, and developed cultures intent on enhancing profitability, accountability and transparency. During his tenure, he enhanced stakeholder relationships; ensured organizational alignment; attained industry leading employee safety metrics and best in class employee engagement metrics. During four consecutive years (2011 – 2015) NiSource was recognized as one of the World' s Most Ethical Companies® by Ethisphere Institution.
Against a challenging macroeconomic backdrop, and in a highly regulated industry, Bob spearheaded and led groundbreaking, transformational infrastructure modernization programs in all states served. Driving engagement with key stakeholders, including high level government officials (state utility commissions, the Federal Energy Regulatory Commission), consumer advocates/groups, and large industrial customers, Bob's teams obtained approval for multiyear rate increases to allow rebuilding NiSource's vast energy delivery systems (aggregate investment approaching $30Bn over 25+ years) to provide better and safer service. Adoption of these landmark programs was nationally recognized as a win win for customers, taxpayers, state and local economies, and the company.
Bob began his professional career at Columbia Gas Transmission as an attorney, and then served in various leadership position s at other Columbia Energy Group (CEG) companies, culminating as President of Columbia Gas of Ohio, Kentucky, Virginia, Maryland, and Pennsylvania. NiSource acquired CEG in 2000.
In addition to serving on the URA Board of Trustees, Bob has served on the board of the National Safety Council and a wide variety of community and philanthropic organizations.
He earned a Bachelor's degree in economics from Davidson College, a JD from West Virginia University and an MBA from Tulane University.